Carbondale
There are two ways to find happiness in this town: money (♢) or love (♡). You will need to build a good network at the local clubs to win hearts, and you will have to have a good supply of spades to mine for diamonds. But it's not easy: when you try to gain social status, people will challenge you. When you try to buy better mining equipment, people will try to undercut you.
This draft is a 2 player game. It can probably be extended to 3-4p by using one deck per player, but we haven't tested that yet.
Play time: ten to fifteen minutes.
Objective
Build a network with ♡ cards whose value adds up to at least 45 and ♢ cards with values adding up to at least 25, or ♢ cards with values adding up to at least 45 and ♡s adding up to at least 25. The game ends as soon as a player reaches one of these goals.
Setup
This two-player game is played with two standard decks of cards, with the same backs. [Tip: we used a ball-point pen to draw a line between the rank and suit of every card in one deck, which is unobtrusive but makes it easy to separate the decks after the game. For this game, both decks will be shuffled together and any deck markings will be ignored.]
Each player gets two starting cards to lay on the table, one next to the other. One player gets an A ♠ and 2 ♣ and one gets an A ♣ and 2 ♠. This is the beginning of your network, which you will build by adding cards to the left, right, or above other cards, so leave room accordingly.
Set aside the face cards, the aces and 2s of ♢ and ♡, and one 10♢ and 10♡. They will not be used.
Divide the remaining deck into segments:

The first will be the remaining cards of value ace through 4.
The second and third segment will be cards numbered 5-7. After pulling these cards, give them a brief shuffle and split them into roughly two equal piles. No need to be precise and count cards at this point.
The third and fourth will be cards numbered 8-10. Again, split these cards into two piles of roughly equal size.

Shuffle only the first deck to form the draw pile, and set aside the other piles.

Deal players a hand of five cards each. Don't reveal your hand to other players.
Play is in turns, going clockwise around the table. However, every player will have the opportunity to challenge other players' actions at any time.
When it is your turn: network building
In your turn, you will add one card to your network, or take a turn to clear out your hand.
Then, you will draw to replenish your hand. Some additions cost one or more draws, reducing the number of cards you will have in your hand at the end of your turn.
Adding a card to your network
First, announce the suit of the card you are about to play, pause to allow others to challenge you, and resolve any challenges (see below).
If you are not challenged or win the challenge, place the new card above, to the left of, or to the right of the card(s) you are building from. The costs of each type of addition are listed below and in a summary table at the end of these rules.
Then discard exactly the number of cards that you must pay this turn—no more, no less—to your personal discard pile, face-up. Keep your personal discard pile fanned open---your opponent will be able to take any of your cards when it is his or her turn to draw.
When you add a card to a blank space in your network, you will need to build from one or two source cards which are adjacent to the space. A card above the space is not relevant, because you can't build downwards. If the space has cards below, to the right, or to the left, select one or two of them as the source of your build. See Figure 1 for examples.
Throughout the game, Ace=1. Note that in all cases below, adding a card of smaller rank is an option.
The first type of addition is from a ♣ or ♠ to a new card of the same suit. The cost in terms of cards you must discard now and draws you will forego at the end of the turn are listed in the table below. Read "N" as the rank of the card being built from. For example, if you are building on a 7♣ (so N=7), you may build a 8♣ for free, or a 9♣ for a cost of one discard and one draw, or a 10♣ for two discards and three draws.
Crossing from ♣ → ♠ or from ♠ → ♣ costs more, and you are more limited in how far forward you can stretch.
You may build a ♡ from a ♣, or a ♢ from a ♠, up to the same value, and no higher. The cost of the build in cards and draws depends on the value of the card that you are adding:
♣ → ♡
♠ → ♢
Rank out always ≤ rank in
For example, given a 7♣, you could add a 4♡ for free, or a 7♡ for 1 card and 2 draws. The 8♡ through 10♡ are still out of reach.
It is easier to buy equipment with many good friends, and it is easier to make friends when you can show off a lot of equipment. If you have a space with cards in two spots below, to its left, or to its right, you can build ♣+♣ → ♡ or ♠, or add ♠+♠ → ♢ or ♣, up to the maximum rank of the two cards you are building from, for free.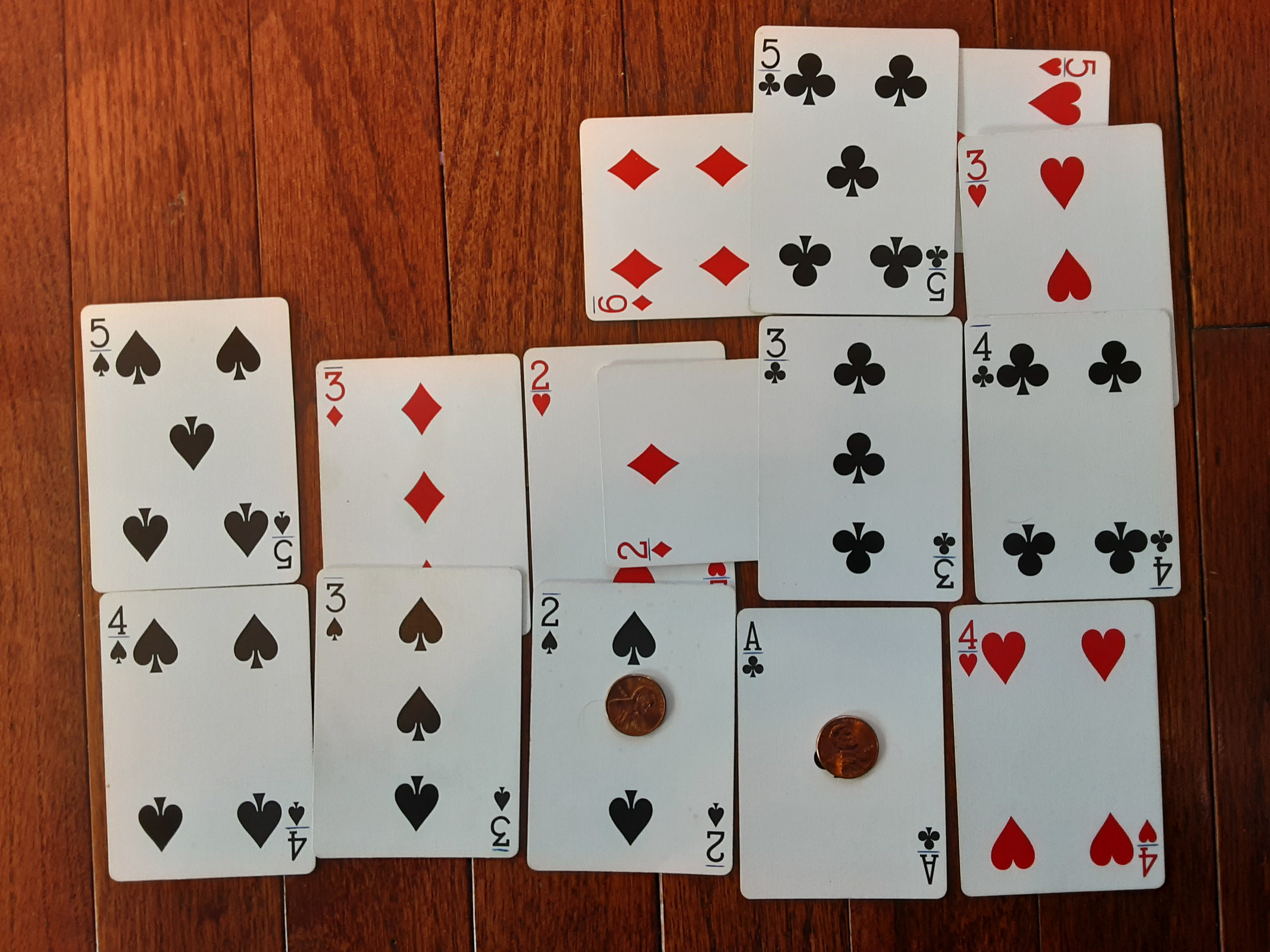 Cleaning your hand
If you can not or do not want to add a card to your network, you may instead discard any number of cards from your hand (including none). Put them face down in a discard pile, separate from the face-up discard pile you fanned out to reveal cards you spent to buy new additions to your network. You incur no costs.
Drawing new cards and city growth
To conclude your turn, replenish your hand.
Draw until you have a card count in your hand equal to 5 minus the number of draws you owe from this turn. This may mean drawing no cards.
You may draw cards from your opponent's face-up and fanned-out discards or the draw deck, in any order, until you reach the right card count.
For example, if you added a 10♡, you paid 3 draws, so your hand will have 2 cards at the end of your turn.
As the game progresses, your options for new clubs to join and new equipment to buy will expand. At the moment a player needs to draw from the draw pile but the pile is empty (and no sooner), form a new draw pile.
At setup, you formed four piles of extra cards: two of cards 5-7 and two of cards 8-10. When you need to form a new draw pile, take the next of these spare piles plus the discard piles, and shuffle them all together to form the next draw pile. If you are out of spare piles, keep shuffling the discard piles together to form new draw piles.
When it is not your turn: challenging
The active player will announce the suit of what he or she is about to play, then pause. At that point, you may challenge your opponent.
You both simultaneously reveal any one card from your hand of the announced suit. The active player is not required to use the card he or she intended to be added to the network.
The low card wins (Ace=1). In a tie, the active player wins.
The loser hands the card to the winner.

If the inactive player wins, he or she discards the winning card face-down and keeps the other.
If the active player wins, he or she chooses one card to keep, and discards the other face-down, but states which card is being discarded.

If the active player wins, he or she must add a card to the network.
For the active player, losing costs 1 draw. The active player may then try again, announcing the same suit or a different one, and confronting any new challenges. If this second attempt fails, the active player does not get a third chance.
Reference
Turn summary
Either add to your network or clean your hand, then draw.
Add:

Declare your suit.
Resolve any challenges.

You and the challenger show cards of the same suit. Low cards wins.
Winner keeps one card, puts the other on the bottom of the discard pile.
Losing a challenge costs one draw. You may try again, but no third tries.

If you win or are not challenged, place a card to the left, right, or above another card.
Discard the cost (if any) face-up on your personal discard.

Or clean your hand:
Draw:

Draw only to 5 minus the total draw penalties this turn.
If drawing, you may draw from your opponent's discard pile or the draw deck.
If you need to draw from an empty draw pile, rebuild the draw pile by shuffling all discards and possibly the next segment of the deck.
The cost of things
Read "N" as the rank of the card being built from. So in the first box of this table, if you had a 7♣, read N as 7, so for 1 card and 2 draws you can add a ♣ two ranks higher, N+2=9.
♣ → ♣
♠ → ♠

♣ → ♠
♠ → ♣

♣ → ♡
♠ → ♢

Rank out always ≤ rank in

♣+♣ → ♡ or ♠
♠+♠ → ♢ or ♣

Rank out ≤ max of rank in

Always free