Carbondale
There are two ways to find happiness in this small town: money (♢) or love (♡). You will need to build a good network at the local clubs to win hearts, and you will have to have the highest-quality spades to mine for diamonds. But it's not easy: if you aren't careful, your competitor may step in and co-opt your network.
Carbondale is a tile placement and resource-building game for two players played with two standard decks of cards. Play time is twenty to thirty minutes.
Objective
Build a network with at least 7 ♡s and at least 3 ♢ cards, or at least 7 ♢s and at least 3 ♡s. The game ends as soon as a player reaches one of these goals.
Setup
You will need two standard decks of cards with the same backs. [Tip: we used a ball-point pen to draw an unobtrusive line between the rank and suit of every card in one deck. The marks are ignored for play, but make it easy to separate the decks after the game, and to play other two-deck games. How about trying five-suit bridge?]
Please note: Throughout the game, Ace=1.
Each player gets two starting cards to lay on the table, one next to the other. One player gets an A ♠ and 2 ♣ and one gets an A ♣ and 2 ♠. This is the beginning of your network.
Set aside the face cards. They will not be used.
Divide the remaining deck into three segments:

Remaining cards of value Ace=1 through 4.
Cards numbered 5-7.
Cards numbered 8-10.

Shuffle only the first deck to form the draw pile, and set aside the other piles.
Deal players a hand of four cards each. Don't reveal your hand to your opponent.
Play
Players alternate taking turns. In your turn, you may try to claim a card from your opponent, then you may add a card to your network. At the end of your turn you will draw to replenish your hand.
Taking a card from your opponent's network
[Tip: if this is your first time reading the rules, read "Adding a card to your network" below and come back to this part.]
You may attempt to take a vulnerable card from your opponent's network and put that card in your hand. Cards are not vulnerable to being claimed if:
they are the initial Ace and 2 from the start of the game,
a black card is adjacent to two other black cards (including the one it was built from), or a red card is built from it.
a red card is in the same space on the grid as another overlapping red card.
Here is the process of attempting to claim a card in your opponent's network:
As soon as you state that you are going to attempt to take an opponent's card, discard one card from your hand, face down.
Show a card (the challenge card) from your hand whose value is higher than the card you wish to take, that has the same color. For example, to claim a 3♣, you need a ♣ or ♠ whose value is 4 or above.
Now your opponent may show a defending card that beats your challenge card. It must be of the same color, and equal or higher value.
If your opponent played a defending card, the card you hoped to claim stays in their network.

The challenge card and the defending card are discarded face down.
Your opponent draws a card to replace the one discarded, using the usual card drawing rules (below).
Take one extra draw penalty when drawing at the end of your turn.

If your opponent does not play a defending card:

Discard the challenge card.
Put the card from your opponent's network into your hand.
Adding a card to your network
Select any card from your hand, possibly including one you just claimed from your opponent, and place it in your network following Carbondale's zoning regulations, then pay for the build.
Zoning regulations
ZR1: ♠s and ♣s shall each take up one spot in a 5x5 grid, without overlap. ♢s and ♡s may be built beyond these borders.
ZR2: Each card shall be built from another source card in the grid.
ZR3: Each source card can build only one new card in each direction (N, S, E, W).
ZR4: ♢s and ♡s may overlap, taking up the same spot in the grid. [Tip: laying the ♢ or ♡ slightly over its source card will help to record which card was built from where. When building East or West, it helps to lay the newly-built ♢ or ♡ sideways.]
In the example here, the player's town started with the 2♠ and A♣. The town is already five black cards wide, but three tall, leaving some room to expand North or South. The player could, for example, build a 4♣ South of the 4♠ (see below). ZR1 allows ♡s and ♢s cards to be built outside the main 5x5 grid, like the 3♢ and 4♡. The player built a 2♡ up from the 2♠, and a 2♢ from the 3♣, which we can tell because the 2♢ builds out sideways from the 3♣. The 2♡ and the 2♢ occupy the same single spot in the grid; similarly for the 5♡ and 3♡. Eventually, new cards could be built to the West and North of the 2♡ and the 2♢, and building from those new cards would allow the 2♡/2♢ spot to hold two more cards.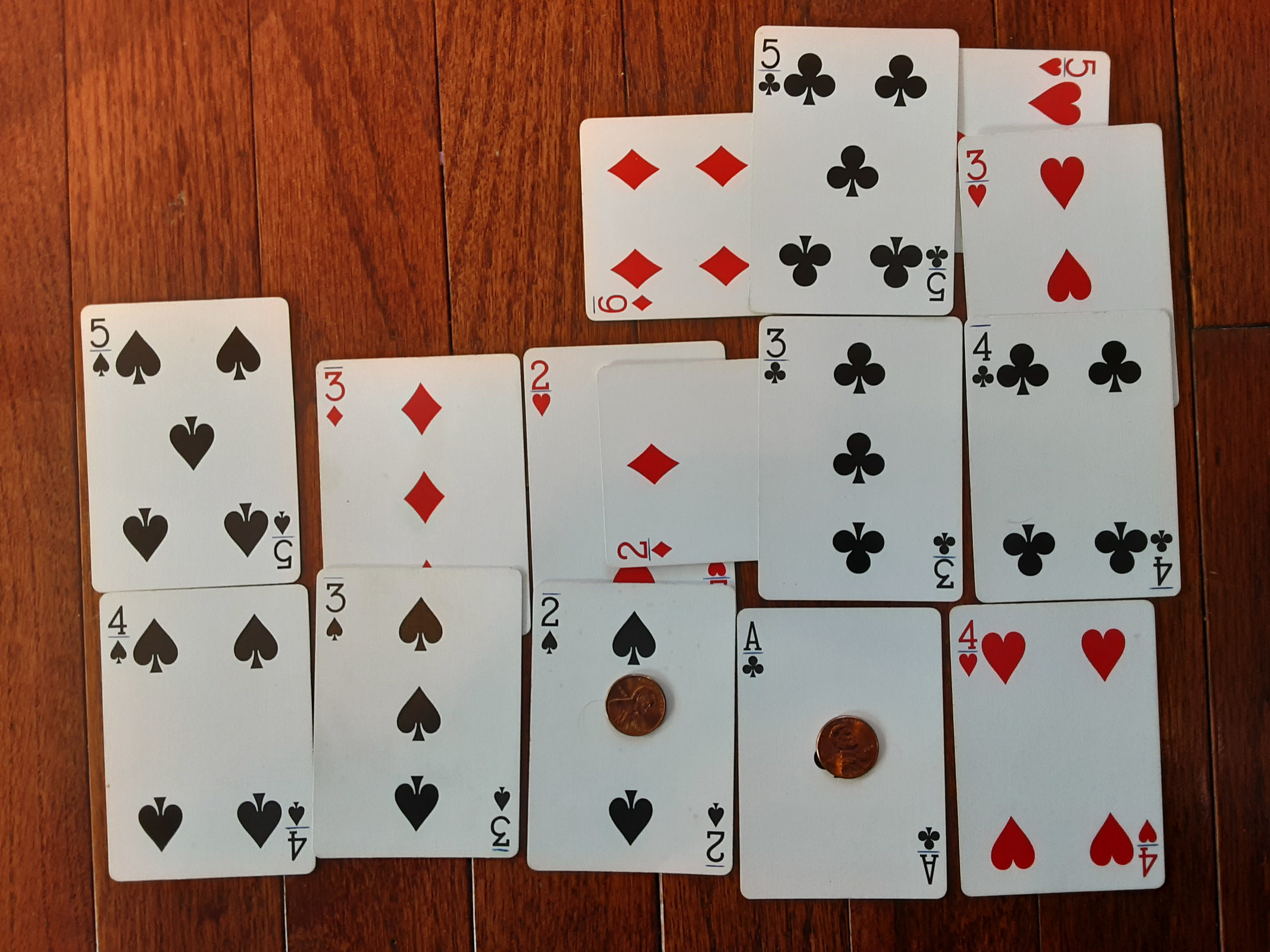 The cost of networking
Your options for progress as a networking businessperson follow a few general principles:
It is easier to join more ♣s from existing ♣s, and joining ♣s can win ♡s.
It is easier to buy more ♠s using existing ♠s, and buying ♠s let you mine for ♢s.
You can climb faster but it might mean you will need to take a rest next turn.
♢s and ♡s are for your enjoyment (read: points toward winning) but never produce.
Each build is from some card with some suit and a rank (let us call it N) to another card. The boxes below show the suits you can build from→to, and the rank the built card can have.
In all cases, you may build a card with the same or smaller rank than the source card, and in some cases can build up to the next rank or two. For example, if your source card is a 5♣ (N=5), the first box says you can build an A♣ up to a 6♣ (≤N+1) for free, or a 7♣ (N+2) for some cost.
If there is a card cost, discard exactly that number of cards to your face-up discard pile. Keep the face-up discard pile fanned open.
If a build is not on the table, such as ♢ → ♡ or ♠ → ♡, you can't do it.
♣ → ♣
♠ → ♠

♣ → ♡
♠ → ♢

♣ → ♠
♠ → ♣
A few examples using the figure above:
Building a 5♡ to the West of the 5♣ costs one discard. Draw to three cards after playing.
Building a 3♣ from the 5♠ costs one discard. Then draw to two cards.
Some things you can't do: build from any of the red cards, build a 7♣ from the 5♠.
Drawing new cards
At the end of your turn, draw until you have a card count as given in the payment table for the build you did. If you did not build, draw to four cards.
For example, if you started with four cards and built a 7♠ on a 5♠, you played the 7♠ on the table and paid one card in building costs, leaving two cards in your hand. When building a card of value N+2, the table tells you to draw up to two cards. So in this case, draw no cards.
Remember, if you tried to claim an opponent's card this turn and failed, draw to one fewer card.
You may draw cards from the draw deck or your opponent's face-up and fanned-out discards (not yours), in any order, until you reach the right card count.
At the moment a player wants to draw from the draw pile but the pile is empty (and no sooner), form a new draw pile. At setup, you formed two few piles of extra cards, each an opportunity to build your network further. Take the next of these spare piles (if any) plus the face-up and face-down discard piles, and shuffle them all together to form the next draw pile.
Reference: turn summary and build costs
Claim an opponent's vulnerable card (optional):

Discard one card face-down.
Reveal a card of the same color but higher rank than the card you wish to claim.
Your opponent may defend by revealing a card of equal or higher rank, but the same color.
Any revealed cards are discarded face-down. If your opponent discards, they draw a new replacement card.
If your opponent did not defend, take the card into your hand.

Play a card from your hand (optional):

Place the card in your network, following all zoning regulations.
Discard the build cost (if any) face-up on your personal discard.

Draw to replenish your hand:

Draw to the number of cards as per the table, minus one if you made a failed claim.
Draw from the draw deck or your opponent's face-up discard pile.
When you want to draw from an empty draw pile, rebuild the draw pile by shuffling all discards and the next segment of the deck, if any.
♣ → ♣
♠ → ♠

♣ → ♡
♠ → ♢

♣ → ♠
♠ → ♣